APS MCC Courses / MCC JOC Courses
Airline Pilot Standard (APS) MCC / JOC Latest Course Information
Stapleford Flight Centre are delighted to offer the new industry-standard MCC, known as the 'APS MCC' or 'Airline Pilot Standard, Multi-Crew Co-operation Course'. The course syllabus is extended with ground school element increasing from three to five days with additional subjects;
TEM (threat error management)
CRM (crew resource management)
FTL (flight time limitations)
Swept wing theory
Upset recovery and prevention
SMS (safety management systems)
The flying side doubles from the 20 hours flown on the standard course to 42 hours, and which now includes an assessment of competence at the end of the course. There is an emphasis on flying a swept wing aeroplane during the first 16 hours of the simulator course giving more instructions on basic handling of jet aircraft, advanced handling; (steep turns, stalls recognition & recovery) coffin corner, unusual attitudes & recognition etc.
The next 16 hours are LOFT exercises (Line Oriented Flight Training) where; as course progresses, problems get more complex and weather gets worse. The end of the course is a refresh / practice of all that has gone on before with final day being an assessment by a TRI/TRE or SFI.
APS MCC Course Dates:
29th Oct – 16th Nov 2018
3rd Dec – 21st Dec 2018
APS MCC Course Costs
15 Day APS MCC - £4,995.00

See our Commercial Course Pricelist for all latest course costs or contact Lisa Wilkinson (Course Co-Ordinator / Commercial Enquiries) via: oc.cfsylf@nosnikliwasil
Standard MCC / JOC Course Information
The standard MCC Course and JOC Course introduce the fATPL holder to a multi-crew environment. All courses are delivered by experienced airline captains on an advanced ALX (A320/B737) generic FNPT2 simulator. Human Factors in aviation are explored during these courses, along with Crew Resource Management (CRM). A solid knowledge of these subjects is essential for airline applicants.
Standard MCC / JOC Course Dates:
Standard MCC / JOC Course Prices:
8 Day MCC - £2,495.00
10 Day Standard MCC/JOC - £2,899.00
2 Day JOC - £1,095.00
See our Commercial Course Pricelist for all latest course costs or contact Lisa Wilkinson (Course Co-Ordinator / Commercial Enquiries) via: moc.cfsylf@nosnikliwasil
See Our 'State-Of-The-Art' ALSIM ALX Flight Simulators
We have a dedicated Simulator Building with the very latest 'state-of-the-art' ALSIM ALX Medium-Jet Flight Simulators. This is first in the UK, and one of only five in Europe. It will be used for MCC and JOC courses as well as a combined course for tomorrow's airline pilots. Introducing the new simulator, Head of Training, Colin Dobney, said:
"This new simulator enables Stapleford to offer enhanced MCC courses in a flight model which, although generic, has many features of the Airbus A320. We will also launch a combined MCC and JOC course as well as standalone JOC courses. It is a big investment for Stapleford so we are keen to utilise the ALX on all aspects of training. In addition to light and medium jet models with EFIS (Electronic Flight Instruments Systems), it has the benefit of conventional instrument mode for SEP
(single engine piston) and MEP (multi engine piston) training, enabling us to replicate the Warriors, Arrows and Senecas in our fleet"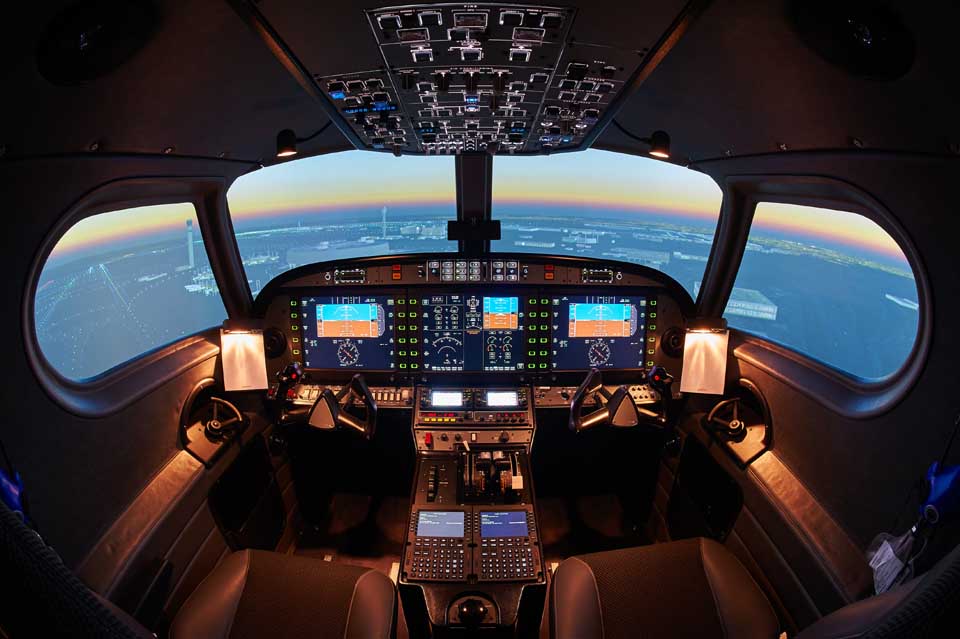 Standard MCC:
We use the ALX FNPT2 MCC Simulator here at Stapleford Flight Centre. This is a 'generic' jet model that has many features from both B737 and A320 type aircraft. Features include twin FMC, CDU's, weather radar, TCAS etc. This course is aimed more at students who wish to bypass the turbo-prop route and start their airline career on a jet type. You will learn to use typical airline Standard Operating Procedures (SOPs) as well as emergency handling and problem solving in a multi crew cockpit.

Most airlines now use a simulator assessment in their selection process this course will provide twenty hours of invaluable jet experience. In addition, during this course, you will be groomed on interview techniques and briefed on what airlines are looking for in prospective pilots. Although this is not a type rating, we use an advanced simulator replicating a generic medium jet type. Potential students are encouraged to arrange an appointment to see the quality of the training that we can deliver.

JOC Course - 16 Hours:
With the complex generic medium jet version of the ALX we have the perfect platform to demonstrate characteristics of flight at high altitude in a swept wing aircraft. Also considered are operations at extreme temperatures both high & low. Realistic loft exercises where TCAS, extreme weather including windshear are encountered. As part of the course you will have hands on experience of programming and learning functions of a Honeywell FMC CDU trainer, as used on both Boeing and Airbus aircraft.
Get in Touch!
Interested? Excited? Motivated? Still have some unanswered questions? Then please contact Lisa Wilkinson (SFC Course Co-ordinator) on 01708 687103 or by emailing moc.cfsylf@nosnikliwasil come along to one of our regular open days to find out more? Your dream of becoming a pilot starts right here!