Our Flight Training Aircraft - Stapleford Flight Centre
About our flight training aircraft
Here at Stapleford Flight Centre, we run one of the most modern fleets of training aircraft in the world. Unlike many of our competitors, we provide all commercial students a wide variety of aircraft types to train on; from our single-engine Tecnam P2008 JC, Cessna 152's, through to our retractable-undercarriage Piper Arrows, all the way up to our state-of-the-art multi-engine Diamond Twin Stars. This means that you will be building an ever-wider experience of different types of aircraft - each with different handling characteristics and performance.
Tecnam P2008JC
A brand-new addition to the SFC fleet in late 2014, the Tecnam P2008JC will be used on all our PPL courses. With a cruising speed of 116kt, this is 'state-of-the-art; single engine, high-wing, two-seater training aircraft was built in Italy. It has a stylish carbon-fibre fuselage, metal wings and stabilator. It has Rotax 912 piston engine, powering a two blade propeller. There is a fixed tricycle undercarriage. A stunning aircraft for all our PPL students.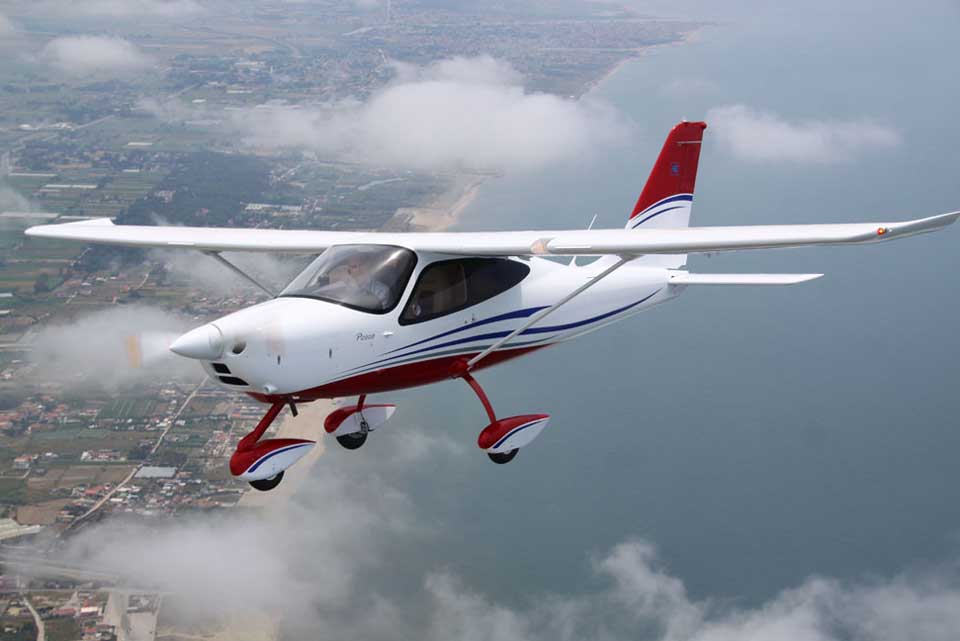 Cessna 152
The 2-seater Cessna 152 has been the mainstay of flight training schools across the world for decades. And with good reason. This aircraft is really tough and rugged, perfect for landing on even the roughest of surfaces without complaint, yet incredibly stable and easy to fly too. The ideal aircraft in which to begin your aviation career.

Piper PA28 Warrior
One of the true workhorses of the aviation training world, the 4-seater PA28 Arrow is a stable and highly reliable aircraft with great handling characteristics. It is slightly heavier and faster than the C152, and with its four seats, the Arrow is therefore deal for larger / taller PPL students. The low wing gives excellent views of the sky above you.
Piper PA28R Arrow
The 4-seater Piper Arrow is the only complex single-engine trainer aircraft built today. With the same familiar controls and handling characteristics as other Piper trainers, it provides an easy transition for students moving up to a 'complex' aircraft. The 'complexity' refers to its retractable undercarriage and variable pitch propellor. Used for advanced CPL training and single-engine IR courses.
Piper PA34 Seneca
A major step-up in your training, the 6-seater Piper Seneca is a powerful twin-engine aircraft and is used on our initial Multi-Engine Piston Rating (MEP). And it's a great touring aircraft too, which is why we regularly provide pleasure flights over London city for those who like a day out with a difference!
DA42 Diamond Twinstar
A stunning addition to the SFC fleet, the immaculate DA-42 represents the "State-of-the-Art" glass-cockpit technology of the 21st Century. Its efficient low-emission engines and elegant cockpit instrumentation make for an almost effortless flight. Used extensively on our IR training courses.
T67 M260 Slingsby Firefly
For the fearless adventurous flyers, we also have the T67 Slingsby Firefly. This is a fully aerobatic military trainer, capable of flying at more than 200 mph, not to mention aerobatic manoeuvres, barrel rolls and inverted flight. A superb training aircraft for those attending our Aerobatic Course.
PA18 Supercub
Last but not least, we have the PA18 Supercub in our extensive fleet. This single-engine aircraft is used tailwheel rating courses and conversion.